In 2010, 20 percent of public school students in the most agriculturally intensive areas of Monterey County went to schools that are located within a quarter mile of carcinogenic pesticide applications.
Twenty-two percent were at schools within a quarter mile of pesticides containing reproductive and developmental toxics; and 18 percent within a quarter mile of toxic air contaminants.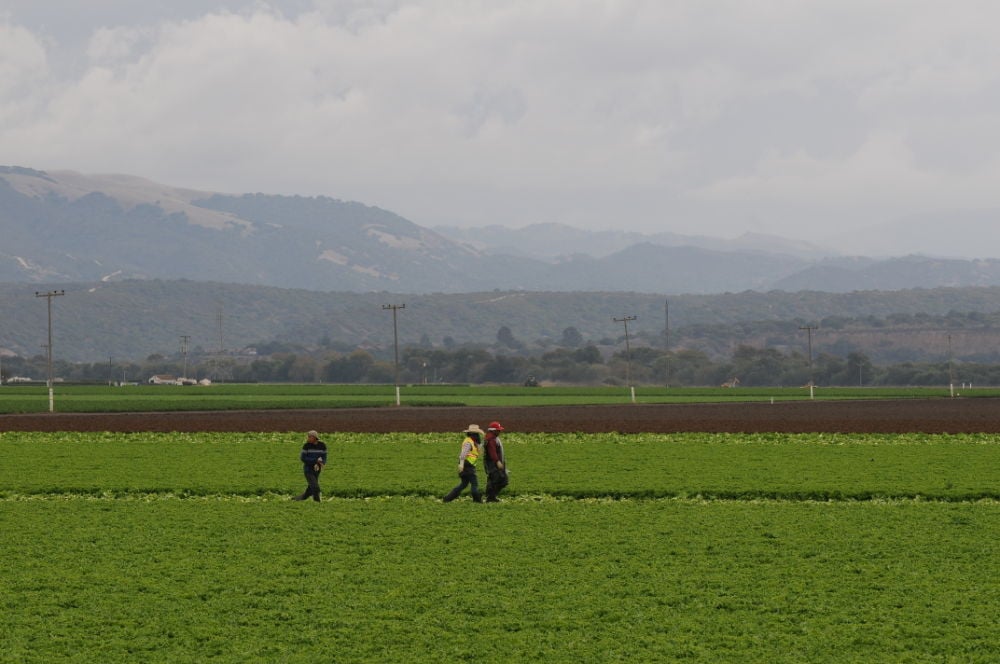 These are among the findings in an extensive study by the California Department of Public Health on pesticide use near schools, released Friday afternoon.
The release itself comes at a controversial time. Advocacy groups who had access to draft versions of the report were asked to sign non-disclosure agreements, and had been pushing for an earlier release date.
Anti-pesticide advocate Paul Towers, spokesman for Pesticide Action Network, wanted it out just a day earlier, before the California Senate Agricultural Committee met Thursday.
Yesterday, the committee killed SB 1411, a pesticide safety bill authored by Sen. Hannah-Beth Jackson, D-Santa Barbara. (In that county, about 4.1 million pounds of pesticides were applied in 2010, about half as much as in Monterey County.)
"This would've been very appropriate information to bring before that committee from a policy standpoint," Towers said. "It would've been incredibly useful."
There's no proven link between the release date and the hearing date, and CDPH officials say simply there's been no delay.
"There has never been a final release date for the report. It was ready today," CDPH spokesman Matt Conens writes by email.
The report shines a light on pesticide applications near children, who may be particularly susceptible to side effects from exposure to chemicals.
It's important to note the CDPH study doesn't address or prove actual exposure; it looks simply at how proximate pesticide applications were to public schools.
The report aims to quantify pesticides of public health concern near public schools, considering population growth on and around intensive agricultural areas.
"Over the past decades, California has experienced substantial growth and the extension of the agricultural-urban interface," the report states. "Many suburban communities are built on past agricultural lands and are located close to agricultural fields where pesticides are applied."
The study examined data for pesticide applications in 15 agriculture-intensive counties, looking at 2,511 schools. The study hones in on pesticides of public health concern, like known carcinogens or reproductive toxins, and found that 144 active ingredients of public health concern were applied within a quarter mile of schools.
Most schools—64 percent—had no pesticides of concern applied within a quarter mile.
Of the students at the schools with the most pesticide use (the top quarter), 68 percent were Hispanic.
A total of 73,876 Monterey County students attended 137 schools that fell within the top 25 percent of all schools surveyed for pesticide use within a quarter mile.
Monterey County students made up 13 percent of the students that fell within the top 5 percent of the pesticide applications—meaning Monterey County had the highest proportion of students in schools with the most pesticide applications near schools of all 15 counties evaluated.
The full report in PDF format can be downloaded here
Original Article: http://www.montereycountyweekly.com/blogs/news_blog/public-health-department-releases-long-delayed-report-on-pesticides-near/article_b045d460-ccc3-11e3-ac0a-0017a43b2370.html